Meet Member Kim Lavere of Land and Local
Sometimes I feel a bit guilty—I get to speak to all of you incredible Holisticism people through our new member phone calls, in-person events all over the U.S., and of course, via electronic mail. (And I'm always blown away by how incredible you are. You're amazing! Let's be BFFs!) But it's rare that I get to really introduce you to each other, unless you happen to be at one of our events in LA, SF, or NYC.
Don't worry, I've got something up my sleeve to fix that. But in the meantime, we can start here.
I met Kim after she was referred to Holisticism by her dear friend. We hopped on the phone—Kim's in Sonoma, I'm in LA—and promptly fell into a soul-filled conversation that needed longer than a 30-min time slot on the calendar.
Kim's approach to wellness comes from her personal experience with burn out, fatigue, and dis-ease. It's a familiar tale for many of us. Admirably, she swiftly re-routed her life as soon as she realized she was off her path—and that led to nearly a year of solo traveling, which in turn led to the creation of Land and Local.
I'll let her tell the story ... but anyone down to go to Italy in October? Keep scrolling for more on Kim, Ayurveda, how to travel like a local, and more.
Tell us a little about your personal transition from NYC to northern California.
It's actually a pretty crazy story, and there are so many different ways of telling it! But the bottom line is I spent almost ten years climbing up the corporate ladder in NYC, diligently checking off the boxes that society told me would lead to a happy and successful life—I had the great job title, the great salary, the beautiful Brooklyn apartment, great friends, fully stamped passport, etc. But even though I had made it according to society's standards, I always felt deep down like I was coming up short. I felt stuck for many years because I was too afraid to risk everything that I thought I was supposed to want. In the end, I was just surviving and I wanted to know what it felt like to thrive.
Then in March of 2015, I got a call that my ex-partner passed away, and everything changed after that. Brene Brown says that "life isn't short on wake-up calls. We are just quick to hit the snooze button." Well, I couldn't hit snooze any longer. I suddenly realized that the fear of nothing changing scared me more than the fear of everything changing. So I changed everything. I left my job, moved out of my apartment, shipped my things home to California, and booked a one-way ticket to Copenhagen (it was the cheapest flight out of NYC!). I had no idea how long I would be gone for, but I just wanted to know what it felt like NOT to have a plan for once. Was it scary? Heck yeah. But it was so freakin' liberating to finally follow my gut after years of ignoring it, and I had to keep going to see where it all led.
I ended up traveling the world solo for ten months and in that time, I finally gave myself the permission to explore and identify what my passions were. I volunteered on a farm in Bordeaux, took Spanish classes in Madrid, worked at a restaurant in a rural village in northern Laos, took life coach training in LA and London, and spent 3 months living on a medical treatment center in India studying Ayurveda.
Once I got back from my trip, I moved up to Sonoma County in Northern California to continue following my passions for food & wellness. I am now one of the lead cooks at the Occidental Arts & Ecology Center, where I get to create delicious seasonal and organic meals using produce harvested from our farm onsite! I also completed my coaching certification last year and started my own business coaching clients one on one and doing Ayurveda diet & lifestyle consultations. I also teach group workshops and started a worldwide wellness retreat company called Land & Local that combine my passions for food, wellness, and intentional travel!
What was the biggest sign to you that getting back into a more natural, embodied way of life is necessary for well-being?
When I was living in NYC, I ignored all the signs of being stressed and completely overworked. My body was seriously breaking down. I was disconnected from my body and I wasn't listening to it. Instead of getting to the root cause of the problem and changing it, I was just running around trying to put out the fires.
I think the biggest sign that getting back to a more natural way of life was necessary for my well-being was noticing how much my physical and mental health changed once I left the source of stress, started aligning my life with my passions, and simplified my life so I could be more in tune with the world around me.
Now I notice it in the simple things, like how stoked I get when I can identify a new plant growing wild in my neighborhood and learning the culinary and medicinal uses of it. Or how it feels like I discovered buried treasure when I find a prolific fruit tree that I can harvest from and preserve its fruit instead of it going to waste. Or how much joy I get in the whole process of food, from planting and growing to harvesting, cooking, and enjoying with friends, working at a place that feels nourishing instead of depleting. Lately, I have been blown away with the amount that we can learn from the plant world. We just have to slow down, watch, and be humble about how much we don't know and they do.
What advice do you have for someone who's not feeling 'at home' in their current city or location?
My first reaction would be to really explore what feeling 'at home' means to you. When I was traveling solo for 10 months, I realized that home couldn't be an external place; it had to be the feeling that generated inside of me, and I had to figure out how to re-create that feeling in multiple environments & multiple cultures.
My traveling motto became "Home is where your slippers are" because I created a morning routine that I could look forward to no matter where I was in the world. I would wake up, put my slippers on, make a coffee, sit at a table, and do something grounding - read a book, journal, stare out at the landscape, whatever made me feel good. It was a routine that always felt like a coming home of sorts, something that rooted each day, something I could depend on.
I think that's what home really stands for—comfort, security, stability—it's a formula unique to each of us, and it extends far beyond a specific place.
What is Land and Local?
Land and Local is a wellness-based travel initiative that focuses on the growing need in today's fast-paced environment to shift perspectives, slow down, and reconnect with the simple things that nourish us—the land around us, local culture, true food, and authentic connection with like-minded others. Our experiences highlight the natural rhythms happening in a particular place; whether it's olive harvesting in Tuscany, winemaking in Bordeaux, or foraging the hills of Sonoma County, each retreat highlights seasonal, local, organic foods and experiences that encourage your overall well-being.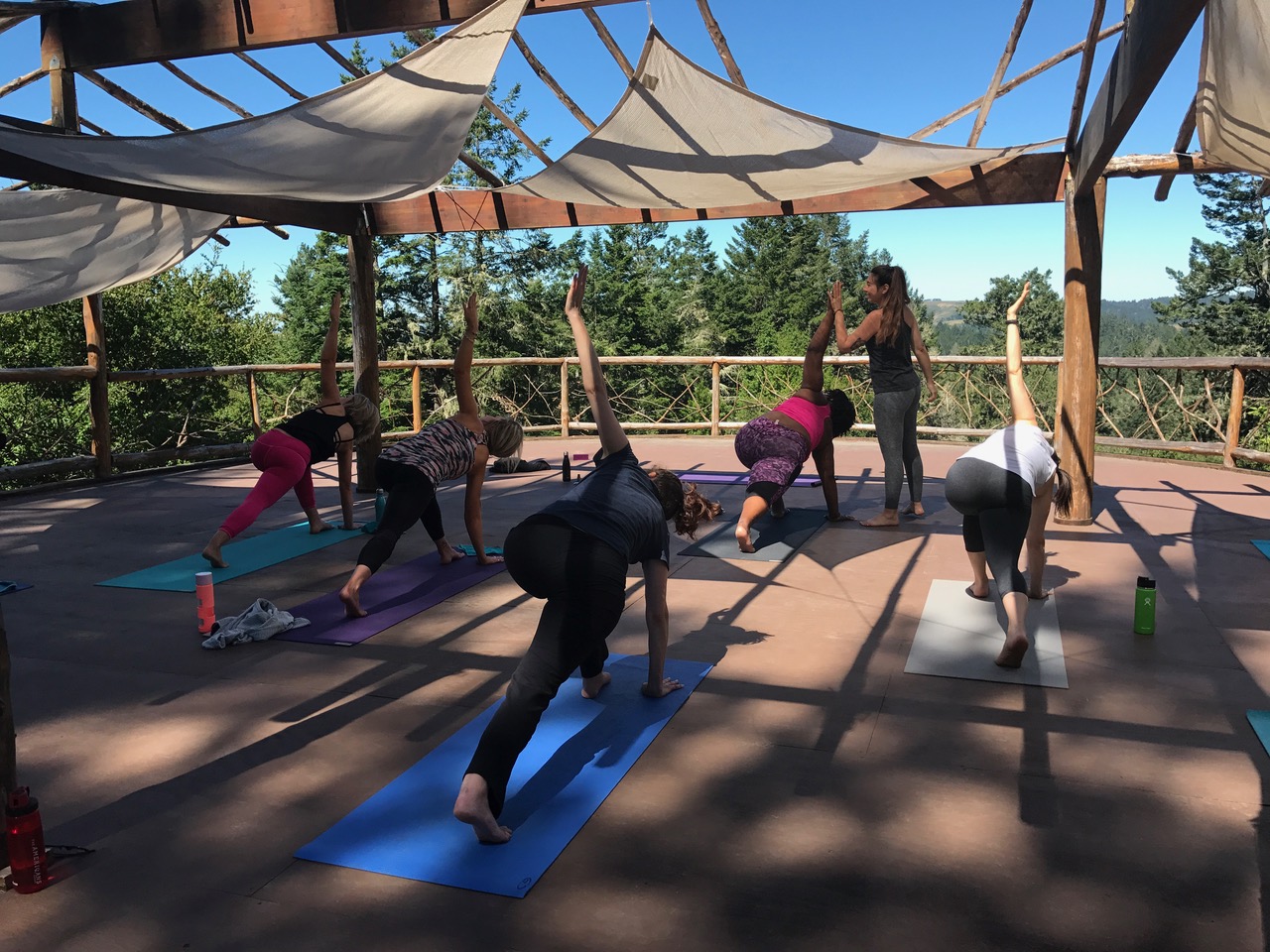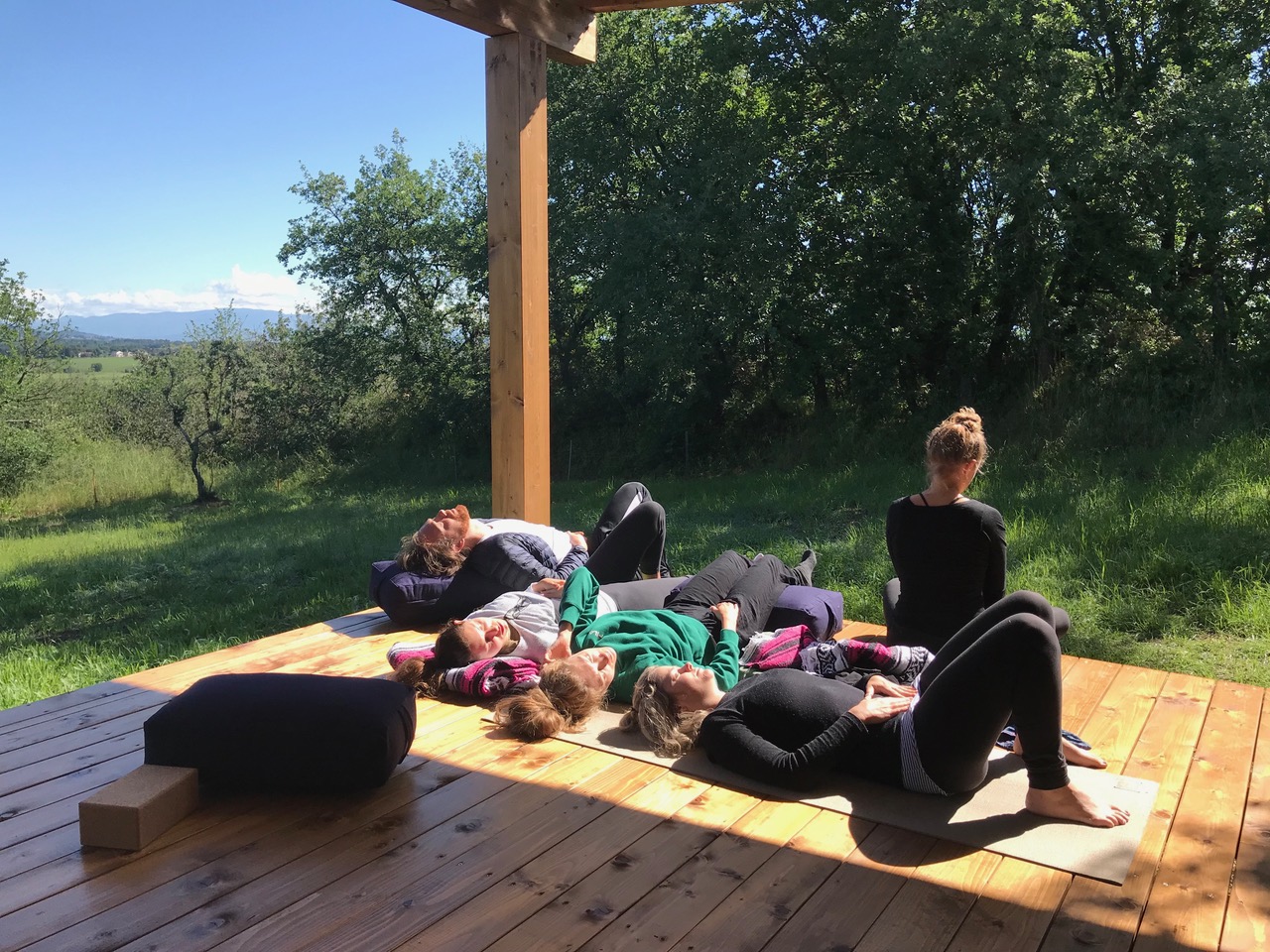 What do you think is missing or off about the retreat model as we're used to seeing it?
I think there are a lot of retreats out there that have a primary focus on yoga, and I think that's great. I have my own yoga practice. I believe in the psychophysical benefits that yoga can provide. But yoga is just one way of jump-starting your wellness routine. And sometimes doing yoga three times a day is not what I'm looking for in a vacation.
I wanted to create a different kind of retreat for others that still focuses on well-being but one that also connects others to the place that they're in and provides space and time to slow down and appreciate the simple things. And I also wanted to create experiences more focused around the food we eat, the way we eat it, and the mindset we are in as we are eating it.
How is Land and Local different?

While L&L retreats still have yoga offerings, our retreats are also immersion experiences that focus on connecting back to the land, local culture, and food. Our meals are harvested together, cooked together, and eaten together. We do activities that are specific to the place that we're in that help us get a better feel for the culture like farmers market strolls, jazz club outings at the local bar, dining at the local farm to table restaurant and natural hot spring bathing.
We also try to keep costs down by finding authentic family-style accommodations in each location, as well as encouraging room shares among solo travelers. It was very important to me to foster a positive environment for travelers coming in pairs as well as alone because I know first-hand how difficult it can be to find affordable experiences for 1.
What's your next retreat, and why are you excited about it?

Our next retreat is Olive Harvest in Tuscany, where we will be immersing ourselves in the Italian countryside and learning how to make olive oil. I am really looking forward to wandering the countryside, checking out the farmer's markets, exploring the natural hot springs, enjoying local food & wine, and tasting freshly pressed olive oil just after we harvest it!
We will also be staying in a 400-year old Italian villa next door to Jean-Lucas and Chiara's farm, where we will be harvesting a lot of our veggies for the meals that we cook together. And of course, I am excited to forage for local wild plants that we can incorporate into our meals as well!
What can people expect to discover if they attend?
I think people can expect to have a truly local and authentic experience in the Italian countryside, doing things off the beaten path that the average traveler will definitely not get to experience. I hope our guests also discover how nourishing it can be to slow down, enjoy the simple things, and learn something new about a culture different from their own.
I love immersion travel experiences like the ones we create at L&L because you get to have a glimpse into an everyday life that may be different from how you live yours. And once you find a tradition that you like, be it a siesta or aperitif hour or morning yoga, you have the chance to layer on that tradition into your life at home, and curate a life that better matches your desires and your needs. And I don't think there's a better way to open up new perspectives on way-of-life than intentional travel does.
What's something you wish more people knew about?
Ayurveda! That well-being is not a one-size-fits-all approach. We are all born with a unique constitution, and optimum health means different strokes for different folks. Lasting well-being is something that is best achieved through a holistic approach that addresses the interconnection of the psychophysical system, instead of treating the mind & body separately. That's why I am a multi-hyphen wellness entrepreneur that offers a variety of ways to achieve better balance and well-being in life.
What's something you're curious about learning more about?

Vedic astrology, food science, and tarot!
Find out more about Land and Local and retreats with Kim here.